Yesterday was day 6 of our 4,500 mile Epic Road Trip- Our Late Start to Summer
We spent day 6 traveling to and visiting Pinnacles National Park. I didn't know much about Pinnacles National Park until I began reading more about it during our drive to this National Park. It is the newest National Park, as it was established in 2013. It is located near Paicines, CA. However, prior to that date it did have National Monument status. National Parks are more highly regarded, so for it to get this new status says a great deal about its ability to impress. This park gets its name from the pinnacles at the park that were developed from volcanos long, long ago. They appear to be enormous, monstrous stones that jut fiercely from the ground. This park covers over a whopping 1.3 million acres! We spent a half a day at the park and it was a delight for us and the children!
Two things that made this park especially impressive and surprising to me were the following:
1. They have breeding and release program for California condors. These massive birds were nearing extinction when a program to breed these birds started here more than a decade ago. Their program has been very successful! The park now actively manages/tracks 86 California condors living in this National Park. We saw 2 condors soaring high above the pinnacles while we were there visiting. We learned to recognize them from the video we watched at the visitor's center. Some people confuse them with vultures or falcons from afar, but once you know their physical differences while soaring high above you won't have any problem distinguishing between these very different birds. Condors are truly amazing birds with an enormous wingspan and incredible power. They almost seem prehistoric!
2. Pinnacles National Park has caves you can walk through on several of the trails. We hiked the West entrance trail location called Balconies.
I imagined it to be a small cave that maybe reached a few yards, or if we were luck 10-15 yards. That was not the case at all. This cave kept going and going. We got so far in and so deep we wondered if it would dead end. The kids even commented that it was a little scary down there. There was no guide or even other people out there. We were on our own. Thankfully we heeded their advice and had a good flashlight with us. It does say flashlight required and they aren't joking! It gets pitch black for quite a while and you are climbing steep rocks and cliffs within the cave. It is listed as a "moderate" hike and I would have to say because of the cave portion in this hike (which is unavoidable if you want to hike the full loop) it leans more toward strenuous. I say this because I know that people of all ages hike in the National Parks. Our three year olds required a great deal of our help inside the caves. They made it though! Nobody got injured either! As we were just entering the path to the caves we noticed some ladies who were leaving and they were quite sweaty and red in the face. It's not a long hike (2.4 miles) so we figured it had something to do with the caves perhaps being a bit challenging. We were right. If it were just Justin and I, it would have been considered moderate for us. For the kids it should be considered difficult or strenuous. Well worth the effort though! Parents can carefully help their kids through the caves as well. You do need kids who are a bit brave! I am proud of how brave my kids were on this entire hike. There aren't photos of the challenging spots in the cave as we were concentrating on helping the kids get through safely. Not trying to scare anyone from trying to go through the Balconies caves as it is quite feasible if you are able bodied and have a flashlight. I just wanted to provide some warning, as we had no idea. For some reason, I imaged walking though level ground spaces within an enclosed cave space. I was quite wrong. Here are some photos from our hike inside the cave. Some of the spaces got quite small and tight too, so be sure to adjust your backpack so you can fit through these spaces.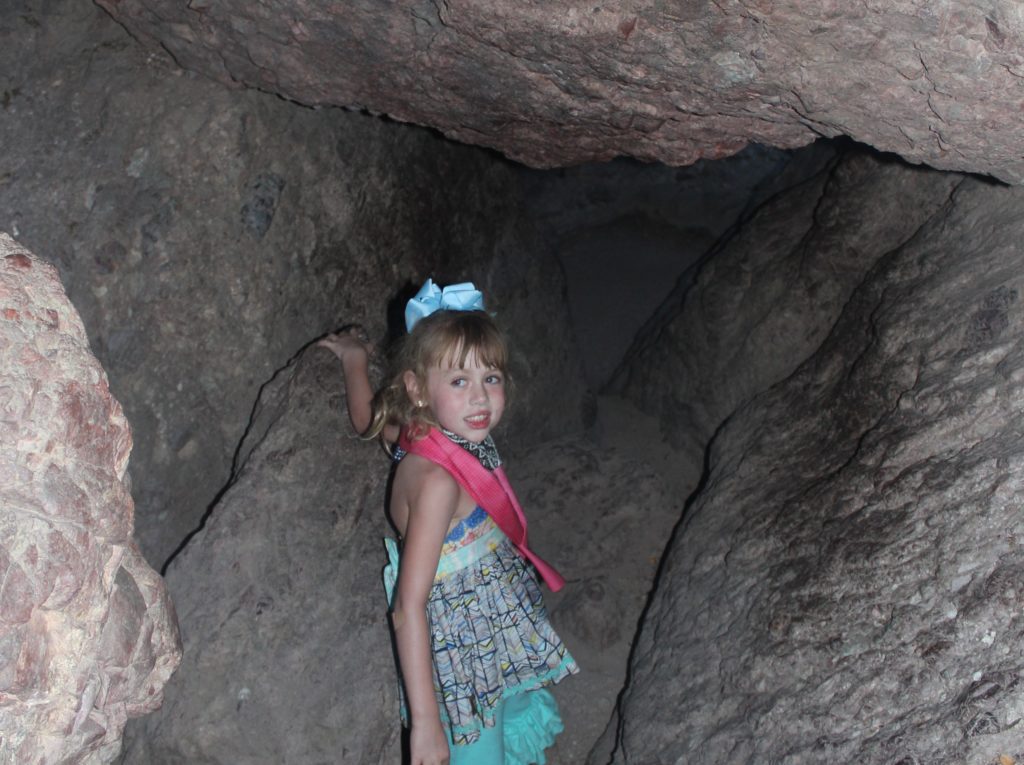 Once you get through the caves you get to continue your walk through the mountains. It does go along the side of the mountains and the views are incredible! It is a 2.4 mile loop and I am glad we did it in the late afternoon/evening hours, as it gets close to 100 degrees on many summer days in Pinnacles. It was in the mid-eighties for our hike, which was cool enough for us to venture out on this hike. Had we been there mid-day we would not have been able to do this hike, as it would be too hot for the kids. Be sure to schedule your hikes early morning or late afternoon if you plan on going to Pinnacles in the summertime. Here are some more photos from our hike:
Another interesting tidbit about the Pinnacles National Park is that there are two entrances- East and West. They do not connect within the park. In order to go from one entrance to the other entrances you have to drive on roads outside the park and it takes 90 minutes (according to info I read online about the drive time). Therefore, research which park entrance you would like to explore, as most people select one location to explore for the day and they opt not to do the 90 minute drive to get to the other park entrance. The East entrance is considered the main or primary location and more people go there. We selected the West which made for ample parking when we arrived in the afternoon. The ranger on staff was very helpful and we felt like we had the place to ourselves (although we did see other people there during our visit). We saw everything we wanted to see at the park from the West including the condors, caves, and the pinnacles.
Also note, unlike most National Parks there is no scenic drive through the park. If you want to see the Pinnacles you have to get out of your vehicle and hike a little bit. You can see some from the parking lot, but it doesn't do justice to the park if you don't get out and see more by venturing out on the trails. Carry a map with you. In my opinion it can be easy to get lost on trails if you don't know exactly where you are headed. I give Pinnacles National Park a full 5 stars!